2nd Rehearsal : Finland – Greece – Moldova
Day 5 at the Globen Arena today and the countries get into the second round of Rehearsals. The day opened with the Finnish 2nd rehearsal.
Today's stage performance for Finland is mostly the same. However her vocal performance is better showing definitely that the signs of cold that she seemed to have on her first rehearsal have gone for good. She herself stated: "We have pumped up the show and made it more intense to keep the energy up."
One thing that's different is her shoes. Sandhja has chosen a pair of shoes by a Finnish designer. They are black and have bunny ears in front. "They have a higher heel and gives me some sass and the right strut", Sandhja stated.
You can watch Sandhja's second rehearsal on stage below: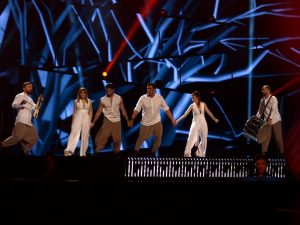 Second country to get on the Globen Arena stage for rehearsal was Greece and the group Argo, to perform their Utopian Land.
The problem with the ear sound didn't discourage the six artists to perform a really impressive show on stage. Vocally on tone both the female vocalists , Christina and Maria and Vladimiros during the rap part,  while taking turns with the traditional instruments giving to the audience's ears traditional Greek sounds, along with the modern hip-hop style.
This is reflected in their choice of costumes as well, the classical long Greek flowing style of dresses, mixed with the baggy trousers favoured by hip-hop performers.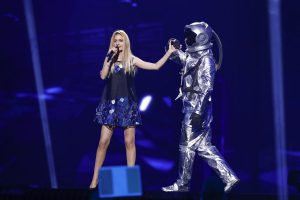 The third country to rehearse today was Moldova.The Moldovan entry Falling Stars was rehearsed for the second time in the Globe Arena today, this time with one chorus sung in the French language, taken from the recently released version Pluie d'étoiles
Apart from fact that vocally Lidia performs perfectly, she worn her semi final dress today,  a short black dress with small blue mirror pieces.