Bulgaria: BNT announced the date and time of Bulgaria's entry release
Through its official Eurovision Song Contest website, BNT, Bulgarian public broadcaster, had revealed how the internal selection for Eurovision 2018 will be made. The BNT will choose the song that will have the most prospects and specifications to bring a good result to Eurovision 2018 and may give them a win.
According to BNT's announcement, the participation of Bulgaria is expected to be announced at the meeting of the heads of delegations on March 12th, maybe in the morning, around 08:00 CET.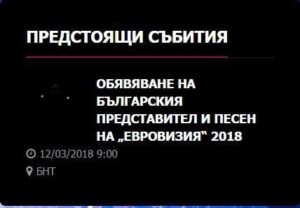 Last year, Bulgaria was represented by Kristian Kostov, giving Bulgaria the second place.