Cyprus: It's Elena Tsagrinou for Eurovision 2021 with her song 'El Diablo'
The Cypriot national broadcaster, CyBC, has announced this morning that Elena Tsagrinou is the country's Eurovision 2021 hopeful to perform 'El Diablo' next May in Rotterdam Ahoy. 
The Cypriots are aiming high for one more Eurovision and ambition to bring to Cyprus its first trophy and you don't need to look much further than their new hopeful and the creative team behind their ESC 2021 entry. Following the decision of choosing a new Eurovision representative for 2021 and not continuing with this year's act, Sandro Nicolas, CyBC is excited to announce that Elena Tsagrinou with her song 'El Diablo' will represent the Island of Aphrodite at the forthcoming Eurovision Song Contest in Rotterdam.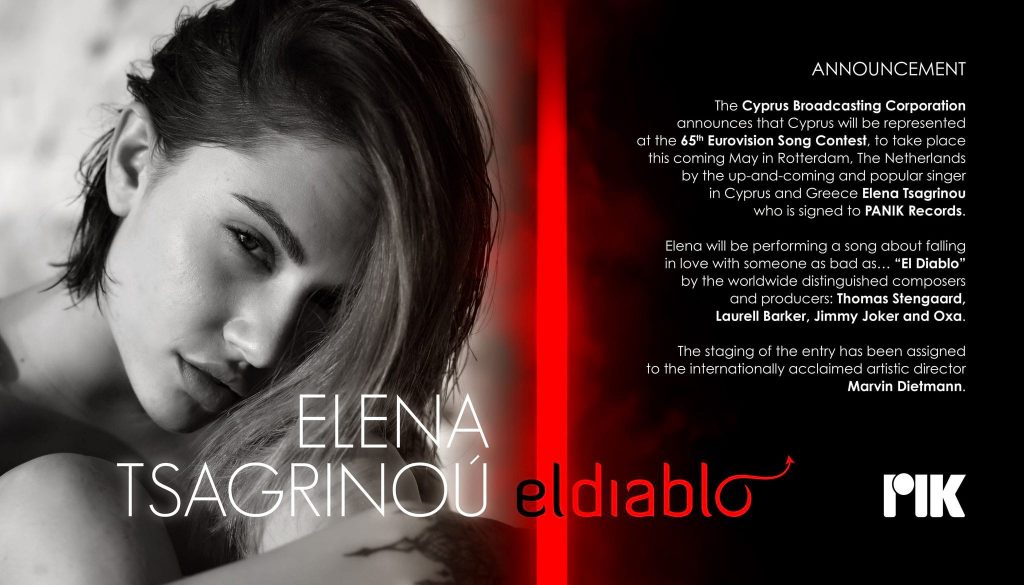 About Elena Tsagrinou
Elena Tsagrinou was born in 1994 in Athens, Greece. The first time her name comes up publically is when she participated at the age of 14 in the talent show Greece's Got Talent, where she reached the semi  finals. . In 2013, after auditions she joins the group OtherView, as their lead singer, meeting success with songs such as 'What you want' and 'O giros tou kosmou' (Around the world)
In 2018 she decides to leave OtherView and go solo and not long after she releases her first single titled Pame ap' tin arhi (Let's go from the start), written by Dimitris Kontopoulos and  Nikos Moraitis. The specific track was released had its Engish version with the title 'Summer Romance'. Just four months after she will release her second single, penned and composed by ARCADE, titled 'Paradeisos' (Heaven).
A year after she'll drop her fourth single titled 'Logia'( Words) written by Leonidas Sozou while in July 2020 she releases her new track 'Pare me agkalia' (Hug me) in collaboration with the Greek act Mike.
All this year's she has collaborated with the biggest names of the Greek Music Scene such as Konstantinos Argiros, Melisses, Tamta, DEMY singing on popular music stages.
Apart from music she co-hosted the Voice of Greek 4 yesrs ago alongside with Georgios Kapountzidis ( The Greek Eurovision commentator) and at the moment she is presenting her own music show 'KROP' stars on the music channel MAD TV.
'

El Diablo'

– The creative team behind it
One thing that already stands out of the Cypriot entry is the creative team behind the song! All names have something to say in the music industry and within the Eurovision scene. First name to mention is Thomas Stengaard, who was behind the winning ESC 2013 entry,Only teardrops  performed by Emmelie de Forest for Denmark and behind Michael Schulte's You let me walk alone which brought Germany in the top 5 at Eurovision 2018.
Next internationally acclaimed name is that of Jimmy "Joker" Thornfeldt, who has written songs for international stars such as Jennifer Lopez, Enrique Iglesias and Pitbull. The team joins also Laurell Barker, who made it to the Top 5 in Eurovision 2019 with Swiss act Luca Hanni and the song She got me . Last but not least the Brazilian-born singer, dancer and songwriter Oxa. In addtion Marvin Dietmann, who was also behind the staging of Conchita Wurst in ESC 2014 will be responsible for the song's staging in Rotterdam.
 The song will be unveiled by Panik Records in the first months of 2021.
THE EUROVISION STORY SO FAR
Cyprus debuted at the Eurovision Song Contest in 1981 with the group Island, achieving an honorable 6th placing in Dublin. Aphrodite's island has been represented by some of the biggest names in the Greek and Cypriot music industry: Anna Vissi (1982), Michalis Hatzigiannis (1998), Evridiki (1992,1994,2007), Ivi Adamou (2012), Despina Olympiou (2013), etc.
The country achieved its best Eurovision result this year when it placed 2nd with Eleni Foureira's Fuego. The Greek famous star was selected internally to fly the Cypriot flag at the 2018 Eurovision Song Contest in Lisbon. Eleni's explosive performanc on  the Altice Arena stage blew away Europe which boosted the country to its highest position ever in the competiton.
This year internally selected Tamta, want to make a strong repeat of last year's success with her song enttitled , Replay, and through her energetic performance at Expo Tel Aviv accomplished a 13th place for Cyprus, keeping the country on the left side of the final scoreboard.
This year, CyBC internally selected Sandro Nicolas to fly the flag in Rotterdam with his entry Running, written by Alfie Arcuri, Sebastian Rickards, Octavian Rasinariu and Sandro himself while the production was work of Teo DK. However Sandro never had the chance to perform in Rotterdama as the contest was cancelled due to the covid-19 pandemic.