#EurovisionAgain: Greta Salóme from Iceland wins the non-qualifiers special edition
Greta Salóme with her song "Hear Them Calling"  won for Iceland the non-qualifiers special edition of #EurovisionAgain among 26 other entries.
For the last nine months the official ESC Youtube channel has been streaming past Eurovision shows bringing back on our screen the excitement and spectacular performances while the audience had a chance to cast their vote on Twitter under the hashtag #EurovisionAgain.
Throughout November  fans were asked on Instagram Stories to pick their favourite song from every country that has failed to qualify for the Grand Final more than once since the Eurovision Semi-Finals were introduced in 2004. In addition, 12 sites and podcasts from the Eurovision fan community were ask to select their 10 favourite non-qualifiers.
In last evening's  show of #EuroviisionAgain we saw the following  26 most voted non qualifiers compete in a "final"show:
Norway – Stella Mwangi – Haba Haba
Estonia – Koit Toome and Laura – Verona
Belarus – Petr Elfimov – Eyes That Never Lie
Bulgaria – Poli Genova – Na Inat
Slovenia –

Omar Naber

– Stop
The Netherlands –

Edsilia Rombley

– On Top Of The World
Moldova –

Eduard Romanyuta

– I Want Your Love
Finland – Norma John – Blackbird
San Marino – Valentina Monetta – Crisalide (Vola)
Romania –

Ester Peony

– On A Sunday
Monaco – Séverine Ferrer – La Coco-Dance
Greece – Yianna Terzi – Oniro Mou
Denmark – DQ – Drama Queen
Poland – Tulia – Fire Of Love (Pali Się)
Switzerland – ZiBBZ – Stones
North Macedonia – Jana Burčeska – Dance Alone
Ireland – Molly Sterling – Playing With Numbers
Montenegro – Who See – Igranka
Croatia – Feminnem – Lako Je Sve
Andorra – Anonymous – Salvem El Món
Israel – Mei Finegold – Same Heart
Slovakia – Kristina Pelakova – Horehronie
Belgium – Kate Ryan – Je T'adore
Czech Republic – Marta Jandová & Vaclav Noid Bárta – Hope Never Dies
Iceland – Greta Salóme – Hear Them Calling
Portugal –

Suzy

– Quero Ser Tua
THE FINAL SCOREBOARD 
Once all performances were diplayed the fans were able to cast their votes online in order to pick their top 10 favorites. The final result saw  Greta Salóme from Iceland winner  with her entry 'Hear Them Calling'  while  ZiBBz from Switzerland came 2nd and  Norman John from Finland  and her song 'Black Bird' 3rd. The top 5 places closed with Kate Ryan from Belgium in 4th place while Mei Finegold came 5th with Israel.
Here is the overall scoreboard with all the votes added in: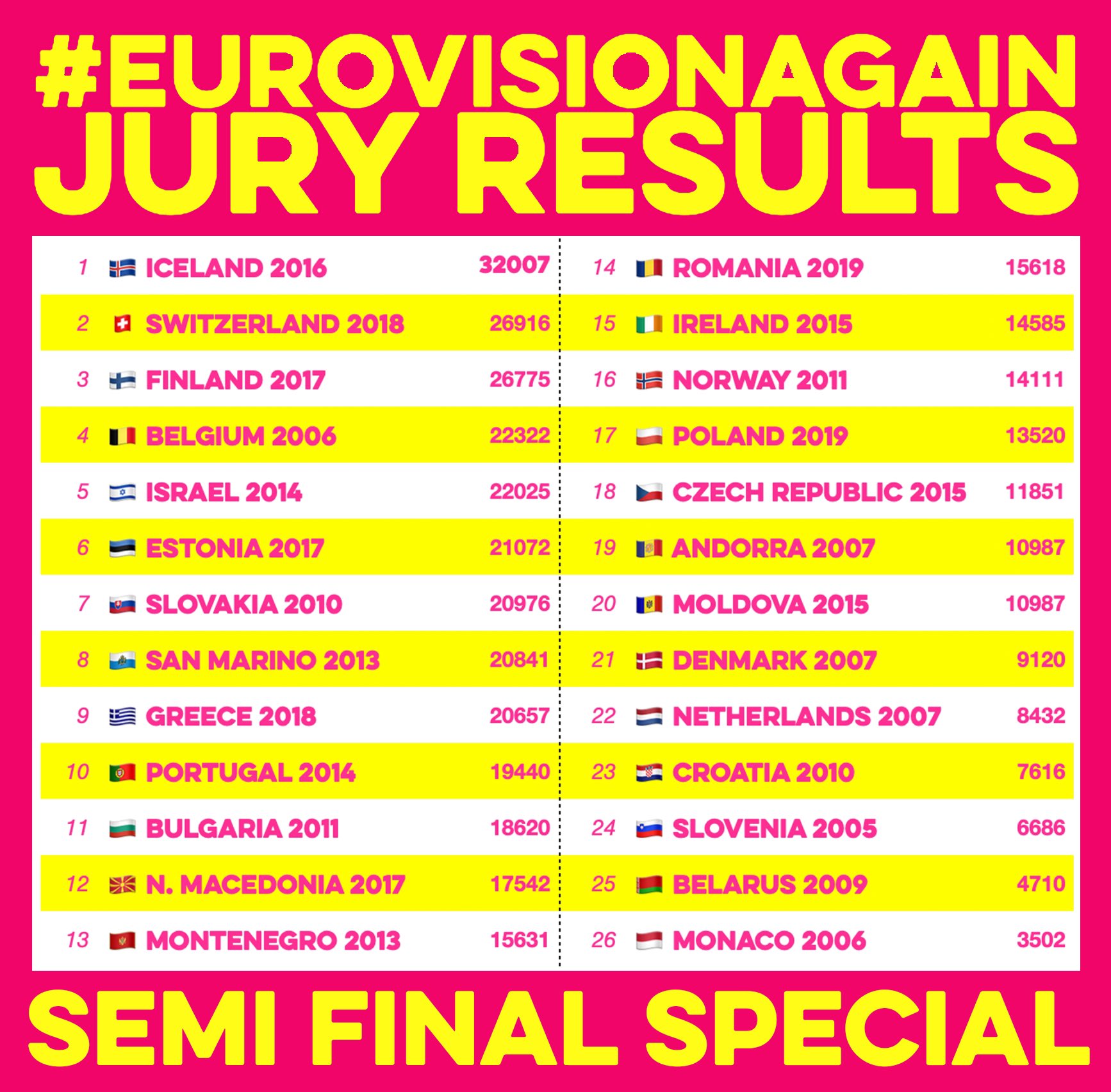 Enjoy once again  the winning performance of this night's special edition of #EurovisionAgain:
In case you missed out or want to watch again this last edition of #EurovisionAgain you can always watch it on the official ESC Youtube Channel below:
Source: Eurovision.tv
Image: ABC