France: Barbara Pravi books her ticket to Rotterdam singing "Voila"
France has decided ! Barbara Pravi won the national final and is off to Rotterdam to represent the country at the forthcoming Eurovision Song Contest with her song "Voila".
France Televisions opted this year for the national selection format of Eurovision France, c'est vous qui décidez' in order to determine the next French Eurovision hopeful.
The show featured past Eurovision participants perform on stage. Namely Marie – Myriam (ESC 1977 winner) sang " L'oiseau et l'enfant" , while Natashsa St-Pier (France 2001) performed Je n'ai que mon àme, also Amir (France 2016) sang his ESC entry, J'ai cherche and Duncan Laurence, thge ESC 2019 winner delivered for the French audience his winnng entry "Arcade".
In addition the show saw last year's Junior Eurovision winner, Valentina, who brought the trophy home with her song "J'magine". Valentina had the chance to receive her award from Marie-Myriam herself.
The Contestants
The 12 acts that took to the stage were:
The result
'Eurovision France you decide', consisted of the following 3 distinct phases:
– Qualifying round : 7 songs that won the public vote moved on to the "Ultimate Vote" stage. These seven acts were:
Casanova –Tutti
Juliette Moraine – Pourvu Qu'on M'Aime
Cephaz – On A Mangé Le Soleil
21 Juin Le Duo – Peux-Tu Me Dire?
Amui – Maeva
Barbara Pravi – Voilà
Pony X – Amour Fou

– The Euro Ticket : A wildcard was awarded by the jury alone to an 8th song which access the "Ultimate Vote" . The act that won the jury's wildcard to the final was LMK with her entry "Magique" .

– The Ultimate Vote : In this final phase the points from then on reset to zero. The public and the jury each at 50%, elected the winning song. Both public and jury voting gave maximum points to Barbara Pravi and her song "Voila" who received a total of 204 points leaving behind Juliette Moraine who received 136 points.
Here is the overall scoreboard once public and jury voting were added in: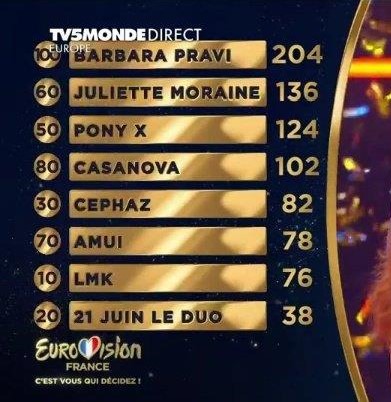 The Eurovision France Jury will be made up of the following members:
– Amir (President of the Jury)
– Marie Myriam
– Jean-Paul Gaultier
– Natasha St Pier
– Duncan Laurence
– Chimène Badi
– André Manoukian
– Elodie Gossuin
– Augustin Galiana
– Michèle Bernier
Stéphane Bern and Laurence Boccolini hosted the event which took place in Paris in a special studio adjusted to the occassion and with the presence of audience.
A few words for Barbara Pravi
Barbara Piévic , said Barbara Pravi , is a singer-songwriter French , born on April 10, 1993 in Paris . Her stage name is Barbara Pravi, but her real last name is Pievic, in Serbian Пјевић (Pjević). She grew up in a family of artists, surrounded by books and music. Pravi is a Serbian word derived from prava meaning "Authentic", in homage to his paternal grandfather of Serbian origin.
In January 2016, she performed On m'appelle Heidi , the French version of the credits of the film Heidi , a 2015 adaptation, released in France in 2016, of two famous children's novels.
She released her first single Pas grandir in 2017 6 ; it will be included in her first EP, eponymous, released in 2017. That same year, she obtained her first role as an actress in a TV movie La Sainte famille , directed by Marion Sarraut and broadcast in December 2019 on France 2.
In February 2020, she released a new 5-track EP "Reviens pour Winter" of which she is the author, composer and co-director. For these songs, she collaborated with Stan Neff, Lili Poe, Vincha , November Ultra and Wladimir Pariente .
Along with writing and composing her own songs, she writes for many other artists such as Yannick Noah , Julie Zenatti , Chimène Badi , Jaden Smith , Angelina , etc. Barbara Pravi and Igit have together more than 135 million views on YouTube with their compositions for Kids.
In 2019 and 2020, she co-wrote with Igit the songs Bim Bam Toi and J'imagine presented at the Junior Eurovision Song Contest 2019 and 2020 respectively . Bim Bam Toi , peroforemd by Carla , finished fifth in ranking and J'Imagine , played by Valentina , who eventually won the 2020 competition with 200 points. in the lead with both the professional jury and the public vote .
Enjoy below the French Eurovision 2021 entry "Voila" performed by Barbara Pravi:
News Source: Eurofansradio.com