Iceland : With Ari Ólafsson and the song "Our choice" to Lisbon!
Few Minutes ago the Icelandic national final for  Eurovision 2018,  Söngvakeppnin 2018, has finished. The show took place in the  Laugardalshöll in Reykjavík and hosts were the former Miss Iceland and actress Ragnhildur Steinunn Jónsdóttir alongside with Jón Jónsson and Björg Magnúsdóttir. Also the Eurovision 2013 winner Emmelie de Forest, last year's Melodifestivalen winner and Swedish Eurovision entrant Robin Bengtsson and last year's Icelandic representative Svala were present as guests and performed their Eurovision entries on stage.
12 songs had been picked to compete in the Grand final of Söngvakeppnin 2018, six songs for each Semi-final. Three songs from each Semi-final qualified to the Final after a televoting.
The 6 competing acts of the Grand Final show in the running order of appearance were:
Fókus – Battleline/Aldrei gefast upp
Áttan – "Hér með þér"/ "Here for you"
Ari Ólafsson – Our Choice/Heim
Heimilistónar – Kúst og fæjó
Aron Hannes – "Golddigger"/ "Gold digger"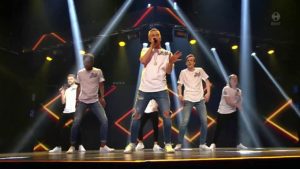 Dagur Sigurðsson – "Í stormi" / "saviours"
During the Final a combination of 50/50 televoting/jury voting determined which two songs would qualify to a Super Final round. The results brought Dagur Sigurðsson  and Ari Ólafsson  in the Super final phase where they performed once more their songs . You can take a look at the overall results as pictured below:
Final – 3 March 2018
Draw
Artist
Song
Televote
Jury
Total
Place
Result
1
Fókus
"Battleline"
12,859
13,091
25,950
5
Eliminated
2
Áttan
"Here for You"
3,360
10,637
13,997
6
Eliminated
3
Ari Ólafsson
"Our Choice"
18,408
17,453
35,861
2
Superfinalist
4
Heimilistónar
"Kúst og fæjó"
17,619
14,183
31,802
3
Eliminated
5
Aron Hannes
"Gold Digger"
14,848
16,090
30,938
4
Eliminated
6
Dagur Sigurðsson
"Í stormi"
24,547
20,183
44,730
1
Superfinalist
The winner that was decided solely by televoting  , against all odds, was Ari Ólafsson  and will travel to Lisbon to be this year's representative of Iceland with his song  Our Choice 
Island is participating in the Eurovision Song Contest since 1986 without being a winner  so far but has achieved twice a 2nd placing on the scoreboard , in 1999 and in 2009. Last time that the country managed to be in the Grand Final was back in 2014 so lets see what Ari Ólafsson will do in Lisbon this year on the first semifinal that he is competing, on May the 8th.