INFE Poll 2020: Today we check the votes from Rest of World
Following the successful INFE Eurovision polls of the last three years, the INFE Network is holding for a fourth concecutive year its Eurovision 2020 poll in collaboration with the leading eurovision site of ESCToday, which is presenting daily exclusively the votes coming accross Europe and Australia from local INFE club members.
A total of 22 INFE clubs from Europe and Australia will cast their votes, with more clubs as Rest of the world will provide additionally their set of votes. The poll is adding the votes from fans in the rest of the world. Therefore, members of INFE RoW around the globe are casting their votes:
Here is the INFE Rest of the World's Top 10:
1 point goes to Greece
2 points go to Ukraine
3 points go to Australia
4 points go to Italy
5 points go to Sweden
6 points go to Russia
7 points go to Iceland
8 points go to… Switzerland 
10 points go to… Bulgaria
12 points go to… Lithuania!
The Roop from Lithuania receive another set of 12 points putting  the top of the scoreboard "On Fire" with their 178 points! Switzerland follows, with a total of 123 points, and with today's 7 points to Iceland and 6 points to Russia, the two countries end up sharing the 3d place of the scoreboard.
This is the INFE Poll 2020 scoreboard after today's votes:
Lithuania– 178 points
Switzerland– 123 points
Iceland– 93 points
Russia– 93 points
Italy – 85 points
Bulgaria– 82 points
Norway– 80 points
Malta– 60 points
Sweden– 57 points
Azerbaijan– 56 points
Ukraine– 44 points
Germany– 40 points
Romania– 26 points
Serbia– 22 points
Armenia– 19 points
Cyprus– 17 points
Latvia– 15 points
Israel– 13 points
Ireland– 13 points
Spain– 12 points
France– 12 points
Australia– 11 points
Slovenia– 10 points
Albania– 10 points
Belgium– 7 points
United Kingdom– 7 points
Poland– 5 points
The Netherlands– 3 points
Greece– 3 points
Georgia– 3 points
North Macedonia– 2 points
Croatia– 2 points
Austria – 1 point
About INFE Rest of the World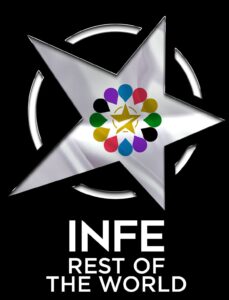 INFE Rest of the World consists of a number of Eurovision fan clubs from across the globe, featuring members from both non-EBU member countries and non-participating countries. Despite not being able to support their home country in the competition, members of INFE Rest of the World continue to dedicate their time into following the Eurovision Song Contest, reaching the same level of excitement as contest followers from participating countries!
Members from countries such as the USA, Mexico, Tunisia and Venezuela are some of the nations which cover the INFE Rest of the World club, each of which have a vast number of entries.
You can check out some of the mentioned INFE clubs by visiting their official Facebook pages: