Italy: Diodato wins Sanremo festival 2020 with his song "Fai Rumore"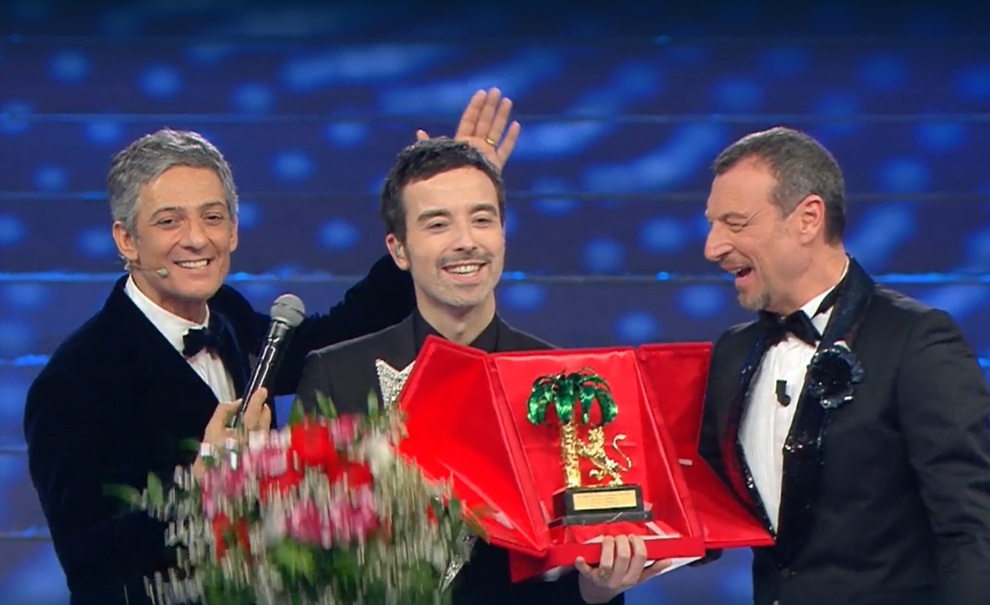 This evening the final of the seventieth edition of the Sanremo Italian Song Festival took place , determining the winner from the Campioni category . Diodato with the song "Fai rumore" won the competition and the right to represent Italy at Eurovision 2020 in Rotterdam next May. 
Diletta Leotta , Sabrina Salerno and Francesca Sofia Novello returned to support the host team alongside with Amadeus tonight. Addtionally, Mara Venier will also be present on stage .
The 23 acts performed on stage according to the following running order:
All the 23 acts in the Campioni Category (after the disqualification of  Bugo&Morgan) performed their entries, with a mixed voting system vote:Namely,  Demoscopic Jury (33%), Press Jury, TV, Radio and Web (33%) and Televoto (34%) determined tonight's  outcome . The average of the votes of the fifth evening and those of the previous four evenings formed a new provisional ranking. The first three top acts went through a new voting round, from zero bases always with the same mixed system.
The song with the highest overall vote percentage obtained in the last vote won the Campioni category section of the Sanremo 2020 Festival and will have the opportunity to represent Italy in the Eurovision Song Contest 2020.
Specifically the ranki
covng after all votes were in developed as following:
Diodato – Fai rumore
Pinguini Tattici Nucleari – Ringo Starr
Francesco Gabbani – Viceversa
Le Vibrazioni Dov'è
Piero Pelù Gigante
Tosca Ho amato tutto
Elodie Andromeda
Achille Lauro Me ne frego
Irene Grandi Finalmente io
Rancore Eden
Raphael Gualazzi Carioca
Levante Tikibombom
Anastasio Rosso di rabbia
Alberto Urso Il sole ad est
Marco Masini Il confronto
 Paolo Jannacci Voglio parlarti adesso
Rita Pavone Niente (Resilienza 74)
Michele Zarrillo Nell'estasi o nel fango
Enrico Nigiotti Baciami adesso
Giordana Angi Come mia madre
 Elettra Lamborghini Musica (e il resto scompare)
Junior Cally No grazie
Riki Lo sappiamo entrambi
Therefore the three contestants that went  on to the Super final round with a new voting from zero bases were :
1. Diodato – Fai rumore
2. Pinguini Tattici Nucleari – Ringo Starr
3. Francesco Gabbani – Viceversa
Once the votes from this Super final round were in Diodato was crowned winner of the 70th edition of Sanremo Festival with his entry "Fai rumore" (make noise) . In second place  Francesco Gabbani with " Viceversa" , while in third place  the Nuclear Tactical Penguins with " Ringo Starr" .
A few words about Diodato
Diodato (born Antonio Diodato, 30 August 1981) is an Italian singer-songwriter. He has released two studio albums, E forse sono pazzo  and A ritrovar bellezza . In 2014 he participated in the Sanremo Music Festival and won the MTV Italian Music Awards for Best New Generation, The Deezer Band Of The Year Award and the Fabrizio de André Award. he won this year's Sanremo festival on his thrid participation in the competion.
Lets enjoy once more the Sanremo 2020 winning song performed by Diodato:
cover photo credit: www.leggo.it