Italy: The results of the second night of San Remo
With incessant interest, we attended the Sanremo Song Festival's inauguration yesterday, and after 4 hours of glamorous show and exceptional guests like Fiorello, Gianni Morandi and Tommaso Paradiso, we listened to the songs of 20 artists in the Campioni category.
These were:
Today, we listen again to the following ten:
Annalisa– Il mondo prima di te
Red Canzian– Ognuno ha il suo racconto
Decibel– Lettera dal Duca
Diodato e Roy Paci– Adesso
Elio e le Storie Tese– Arrivedorci
Renzo Rubino – Custodire
Ron– Almeno pensami
Ornella Vanoni, Bungaro & Pacifico– Imparare ad amarsi
Le Vibrazioni– Così sbagliato
Nina Zilli– Senza appartenere
At the same time, the "Nuove Proposte" constest (newcomer artists) was launched and we watched four of the eight candidates:
Lorenzo Baglioni– Il congiuntivo
Alice Caioli– Specchi rotti
Giulia Casieri– Come stai
Mirkoeilcane– Stiamo tutti bene
The results were,as yesterday,judged by 40% by the public, 30% by accredited journalists watching the competition and 30% by the polling committee consisting of 300 fans across the country, who voted from their houses in an electronic way. Also, the organizers again did not give us the results of the triple vote for tonight but only the results of the polling commission. The tonight's results are:
"Campioni" category:
*In the blue colour are the songs that preceded in the score, the yellow one are those in the middle and in the red one are the ones with low scoring
"Nuove Proposte" category:
Alice Caioli – Specchi rotti
Lorenzo Baglioni – Il congiuntivo
Giulia Casieri – Come stai
Mirkoeilcane – Stiamo tutti bene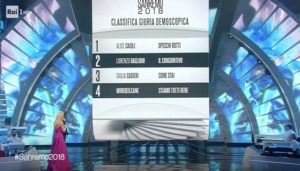 We do not know the results of the televoting and the press committee, so we may have a reversal on Friday.Several variations from the yesterday's ranking of the polling commission. Until now only Ron was in the blue category of both committees.
Besides the presentations of the songs in the two categories, today we also saw on stage Il Volo (Sanremo 2015 winners and Italy's Eurovision represenantive where they ranked third place with "Grande amore"), Biaggio Antonacci, Sting with Shaggy and Roberto Vecchioni.
We renew our appointment for the third day of San Remo tomorrow at 20.35 CET via RAI.