Lithuania: Ieva Zasimauskaitė with "When we're old",the great winner of Eurovizijos 2018
The last country to select its represenantive through a national final for this year's ESC was Lithuania and "Eurovizijos 2018" was over a few minutes ago.
Ieva Zasimauskaitė with her song "When we're old" was crowned as the big winner of the show and she is this year Lithuania's representative at the 63rd Eurovision Song Contest.
The results came out by a combination of  public and the jury voting. Mantas Stonkus και Ugnė Skonsmanaitė hosted the show again. During the show  we also watched this year's Icelandic represenantive Ari Olafsson and Finnish represenantive Saara Aalto perform on stage their entries,as guests of the night. Additionally we saw two former Lithuanian represenantives, Fusedmarc (2017) and Sasha Song (2009) perform their past ESC  entries.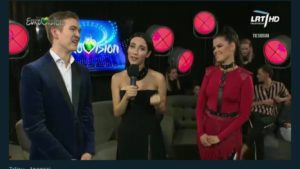 Listen below to the winning act:
Here is the table with the analytical results of the final:
Draw
Artist
Song
Jury votes
Public
Total
Place
Jury votes
Points
Televote
Points
1
Monika Marija
«The Truth»
62
8
13755
8
16
4
2
Kotryna Juodzevičiūtė
«That Girl»
46
6
1390
6
12
5
3
The Roop
«Yes, I Do»
50
7
16491
10
17
2
4
Paula
«1 2 3»
38
5
1160
5
10
6
5
Jurgis Brūzga
«4love»
71
10
5382
7
17
3
6
Ieva Zasimauskaitė
«When We're Old»
70
12
20335
12
24
1