Lithuania: The"Monsters" on Eurovizijos stage
The Lithuanian public broadcaster reserved  a glamorous guest for the night of the big final, "Eurovizijos atranka 2018". This is Saara Aalto, who announced that she will sing her Eurovision entry "Monsters" on the stage of the Lithuanian final selection. She will also appear at SohoClub in Vilnius on Saturday at 1:30 am.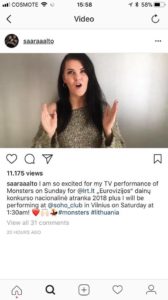 Last week, Finnish public broadcaster  and the international jury decided what song Saara will sing at  the 63rd Eurovision Song Contest. The"Uuden Musiikin Kilpailu" show was held last weekend, where Saara performed three songs – "Monsters", "Queens" and "Domino". Eventually, Monsters got the most votes.
This year's Lithuanian representative will participate in the first half of the first semi-final to be held on 8 May in Lisbon, Portugal.