Malta: The six girls who got a spot during the Six Chair Challenge round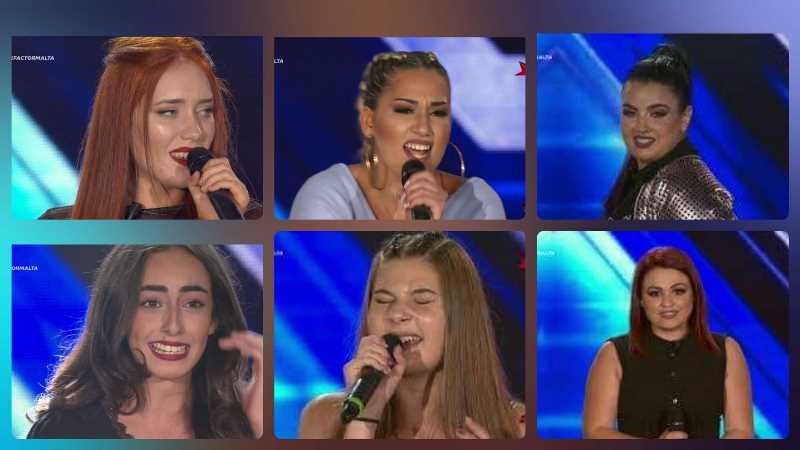 As we already know the X Factor Malta is the successor of  Malta Eurovision Song Contest (MESC) as the format for selecting the country's Eurovision 2019 entry. On Sunday the show reached to the  Chair Challenge round during which 6 acts from the girl's team won a spot in the next phase, Judge's Houses.
From the Auditions to Chair Challenge
On October 7 Malta kicked off its quest for the next Eurovision representative by holding the x-factor auditions in front of the four judges (Howard Keith Debono, Ray Mercieca, Alexandra Alden, Ira Losco) who had to determine which acts will qualify to bootcamp phase. After auditions were over a total of 120 act made it through to the bootcamp phase, which consisted of three rounds.  Eventually after the bootcamp a total of 48 acts qualified to the Chair Challenge round. The qualifying acts formed 4 categories , the girls, the boys, the overs (+25) and the groups.
After the bootcamp Each group was assigned to a judge as its mentor for the rest of the show . From each goup 6 acts will secure a spot in the next round of Judge's Houses . On Sunday evening the first chair challenge round was broadcast and the 14 girls of  Howard Keith's goup battled for the six spots. 
The girls that competed in the chair challenge round were: Kelsey Bellante, Raise Maria Micallef, Michela Galea, Victoria Sciberras, Nicole Frendo, Karin Duff, Shauna Vassallo, Jade Vella, Nicole Brincat, Kaylie Magri, Gail Attard, Kelly Moncado, Danica Muscat, Michela Pace. From this group the ones that pass to the next round were:
Karin Duff- Can't help falling in love (Elvis Presley)
Kelsey Bellante – I Like it ( Cardi B, Bad Bunny & J Balvin /Havana (Camina Cabello)
Jade Vella – Ain't nobody (Chaka Khan)
Nicole Frendo – Lay me Down (Sam Smith)
Michela Pace – Praying (Kesha)
Danica Muscat – Fallin' (Alicia Keys)
Next Sunday the Chair Challenge for the boys will be broadcast and another set of 6 acts will qualify to the next phase.