Portugal: Meet Salvador Sobral's favorite for the FdC
Through his official Facebook page, last year's Eurovision winner Salvador Sobral shows his preference for the winner of this year's Festival da Canção and his country's representative in the contest.
This is Janeiro and the song "Sem titulo". Actually, Sarvador himself was the one who invited Janeiro to participate in this year's Festival da Canção.
Below you can read  Sarvador's  post: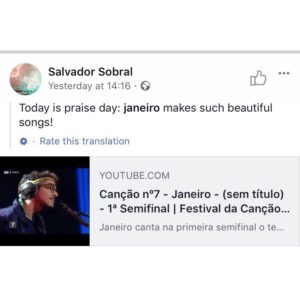 Furthermore,today,the running order of the Final was also announced and that is as follows:
 Rui David – Sem medo

 Susana Travassos – A mensageira
Peter Serrado – Sunset

Joana Espadinha – Zero a zero

Lili – O voo das cegonhas

Catarina Miranda – Para sorrir eu não preciso de nada

Joana Barra Vaz – Anda estragar-me os planos

David Pessoa –  Amor veloz

Minnie & Rhayra –  Patati patata 
Janeiro – (sem título) 
Maria Inês Paris – Bandeira azul

Anabela –  Para te dar abrigo

Cláudia Pascoal –  O jardim

Peu Madureira – Só por ela 
The Festival da Canção Final will take place on Sunday, March 4, with the 14 artists fighting for the golden ticket to Eurovision Song Contest.
Portugal, as last year's winner of the ESC and therefore as this year's organizer, has been qualified  directly to  the Grand Final of May 12th.
Listen below again to Salvador's favorite song: