Romania: "The Humans" will represent the country in Lisbon singing «Goodbye»
Romanian ESC 2018 representative is now selected. Selecția Națională 2018, the country's national selection process completed a few minutes ago,live from Sala Polivalentă in Bucarest, after 5 qualifying rounds and 59 artists on stage.
Finally, The Humans won the golden ticket and they will travel to Lisbon in May for the upcoming Eurovision Song Contest 2018.
The Humans and their song «Goodbye» was selected among 15 finalists by 100% televoting.
And here are all the 15  entries that competed in tonight's final: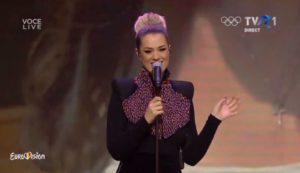 Diana Dumitrescu and Cezar Ouatu (Romania 2013) took over the show's presentation duties while one of the emotional moments of the evening was when Cezar Ouatu sang Portugal last year's winning song "Amar Pelos Dois".
We also watched, as guests, Ilinca (Romania 2017), Alex Calancea Band and this year's Moldovian represenantives at ESC 2018,"DoReDos" performing on Selecția Națională's stage.
Listen to the winning act below: