Spain: Edurne a Hellenic warrior in a forest- Amenecer's teaser released !
TVE announced last week that the 2015 Spanish Eurovision entry Amanecer will be premiered on its official website on Sunday 01 March. Edurne's Amenecer will be released at 12.00 CET onRTVE's official Eurovision website on Sunday 01 March.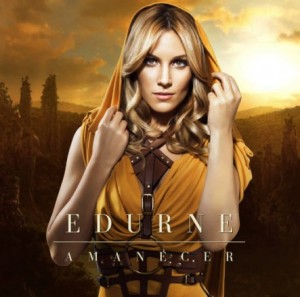 Amanecer's cover photograph shows Edurne as a Hellenic Warrior with a  backround of a forest. The spanish broadcaster released  released a teaser of Amanecer's official videoclip where it's more obvious the theme of here cover photograph.
Amanecer is a  song that has been produced by  Tony Sanchez Ohlsson, the author of the 2007 and 2012 Spanish Eurovision entries ( I love you mi vida (DNASH) and Quedate conmigo (Pastora Soler) and the Swedish dream team Thomas G:son and Peter Bostrom. Both G:son and Bostrom were the composers of the 2012 Swedish winning entry Euphoria. Thomas G:son has been behind many Eurovision entries in the past years: the 2007 and 2012 Spanish entries, the 2010 Danish Eurovision entry, the 2001, 2006 and 2012 Swedish Eurovision entries and the 2007 Norwegian Eurovision entry.
Amanecer's teaser courtesy of TVE