Tel Aviv Calling: Glamour and glitter meet at the Eurovision 2019 Orange Carpet and the Opening Ceremony
The Israeli national broadcaster and the city of Tel Aviv , are holding today  the 2019 Eurovision Orange Carpet and Opening Ceremony.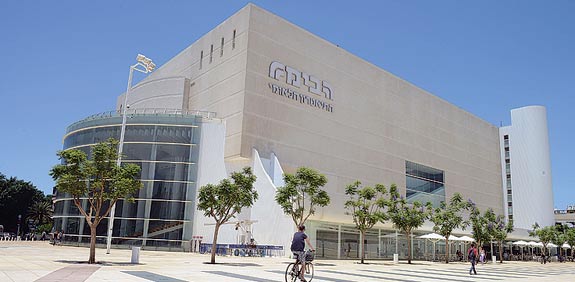 As the 2nd runs of rehearsals at Expo Tel Aviv  have concluded just two hours before, the Israeli national broadcaster and city of Tel Aviv are holding today the Orange Carpet and Opening Ceremony.  The city of Tel Aviv is hosting the 2019 Red Carpet and Opening Ceremony at the iconic Habima Square  today, 12 May at 19:00 local time (18:00 CET).
In 2010, the red carpet was pink and in 2018 it was blue, fitting the theme of the contest that year. This year, the carpet is orange, a subtle tribute to this year's Presenting Partner, MyHeritage.
Habima Square
Habima Square is located in the center of Tel Aviv, Israel, which is home to a number of cultural institutions such as the Habima Theatre, the Culture Palace, and the Helena Rubinstein Pavilion for Contemporary Art. The square is at the intersection of Rothschild Boulevard, Hen Boulevard, Dizengoff Street and Ben Zion Boulevard.
The idea to establish a cultural center was originally proposed in the Geddes Plan, the first master plan of Tel Aviv planned by Patrick Geddes in the late 1920s. Geddes envisioned a kind of a modern "Acropolis". In the Geddes plan, this would be the cultural core of Tel Aviv, while Dizengoff Square nearby would be a commercial center of a different character.. The square and compound was renovated and revamped between 2010-2011.
The Orange Carpet and Opening Ceremony
During the Orange Carpet event, competing acts at the 2019 Eurovision Song Contest will be able to meet and greet their fans and the assembled press. The 2019 Eurovision hopefuls will be seen in their best attire outfits. At the opening ceremony, the Mayor of Tel Aviv, Mr Ron Huldai and officials from KAN, the EBU, City of Tel Aviv and Israel will officially welcome the 2019 Eurovision participating countries, delegations and artists to Tel Aviv.
The INFE Network will be right there to cover the whole orange carpet event and opening ceremony with lots of photos and statements! Stay tuned on our site and Instagram account!